The FP-RESOMUS Grant Agreement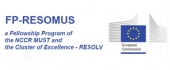 Today, November 6, 2018, the European Commission has counter-signed the Grant Agreement for the new Fellowship Program of the NCCR MUST and the Cluster of Excellence RESOLV: FP-RESOMUS. The first Call for Applications will open on December 1, 2018 and close on February 28, 2019.

FP-RESOMUS will run from April 2019 to September 2023, and fund up to 50 fellowships for postdoctoral students. The fellowships provide a fixed sum of Euro 2'625 per month for a maximum of 2 years. The scheme is funded through the COFUND scheme, which aims to stimulate regional, national or international programmes to foster excellence in researchers' training, mobility and career development, spreading the best practices of Marie Skłodowska-Curie actions.